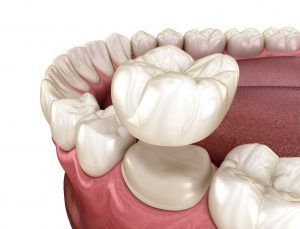 If you have never received a dental crown before, you could feel a bit of trepidation when your dentist informs you that you need one. You might wonder what the process involves, and more importantly, you may want to know if the treatment will cause any pain. You can be sure that your dentist will do their best to make you comfortable. Let's talk about the process ahead of you and what you can expect to feel during it.
Preparing Your Tooth
To prepare your tooth for a crown, your dentist will have to remove a portion of its enamel so it will fit well beneath its restoration. You will be numbed during this part of your treatment, so you should not feel any pain. However, you may still experience some pressure as the enamel is modified. If you are nervous about this part of your treatment, ask your dentist if you qualify for sedation. Nitrous oxide or oral sedation may be available to help you relax.
Once your tooth is prepared, impressions will be taken, and you'll receive a temporary crown to protect your tooth while a lab creates your permanent one.
After any local anesthesia wears off, you may experience some soreness and sensitivity in your treated tooth for up to a few weeks. Over-the counter pain relievers are usually enough to manage any discomfort.
Receiving Your Permanent Crown
When your temporary crown is being taken off, you might feel some pressure. However, you can expect this part of your treatment to be easy because temporary crowns are designed for quick removal. Once it is off, your permanent crown will be cemented into place. Most patients do not even require local anesthesia for this part of the crown process, and any soreness afterward should wear off quickly.
Dental Crowns Prevent Pain
Although the process of getting a dental crown may cause some minor discomfort, sensitivity, and soreness, it will be well worth it in the end. A crown can actually prevent dental pain in a couple of ways:
It protects a damaged tooth. A crown can stop outside stimuli from irritating a sensitive tooth, prevent damaged teeth from further breakage, and more. It can thereby help you to avoid a painful dental emergency in the future.
It preserves a tooth. Dental crowns often play a large role in preventing extractions. By doing your best to keep your natural teeth, you can avoid the discomforts and inconveniences of having an incomplete smile.
Most patients find that getting a dental crown is easier than they expected! Your dentist will do all they can to make sure you are comfortable throughout your treatment process.
Meet the Practice
Dr. Melody Stampe has been practicing dentistry for more than 25 years. She is a highly accomplished professional, boasting memberships in numerous prestigious organizations. She is even a Fellow of the Academy of General Dentistry. Along with her team, she strives to make sure patients are comfortable during their treatments. To learn more about Dr. Stampe and our practice, contact us at 972-231-9499.