Implant Dentures – Richardson, TX
New Roots for Sturdy Replacement Teeth
If most or all of your teeth have been lost, simple tasks like chewing and speaking suddenly become much more difficult. The traditional way to replace an entire arch of teeth so that your mouth can function normally again is with dentures that sit directly on your gums. However, if you want new teeth that look and feel as much like natural teeth as possible, Dr. Stampe and Dr. Gater may instead recommend implant dentures. To learn more about this modern solution for extensive tooth loss, contact us today.
Why Choose Cityline Dental Center for Implant Dentures?
Partnered with Local Implant Specialists
High-Quality, Long-Lasting Materials
Dentists with Years of Experience
What Are Implant Dentures?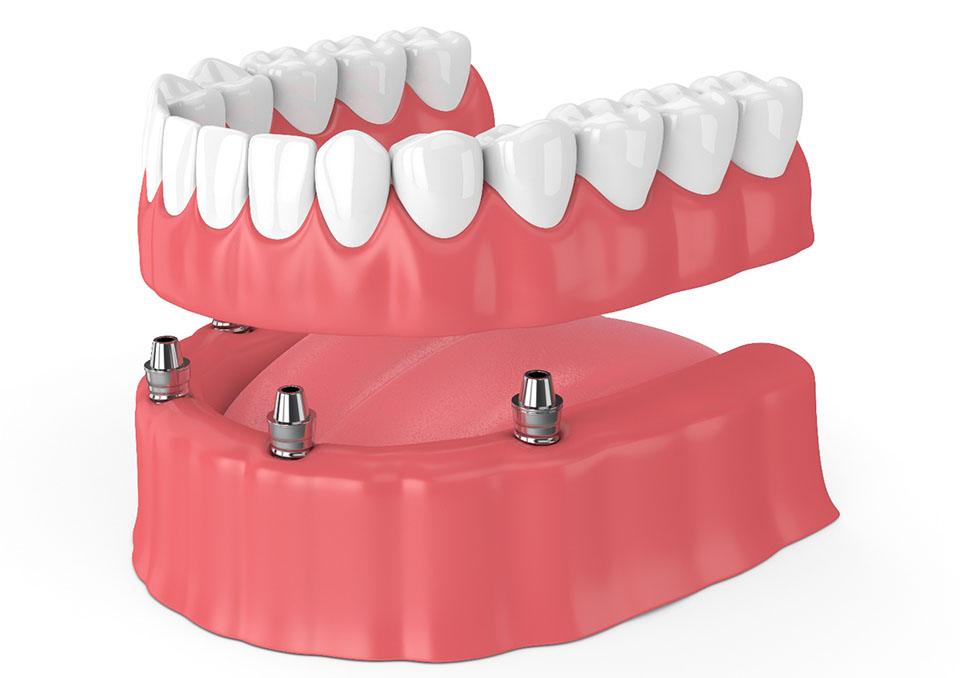 Implant dentures are anchored to your mouth via a number of dental implant posts that have been inserted into your jawbone. Dental implants can be thought of as artificial tooth roots that prevent your new restoration from moving out of place. An implant denture can either be removable or fixed depending on your situation:
Fixed/Permanent Implant Dentures
A fixed denture usually requires about four to six carefully placed implant posts. Your new teeth will stay in your mouth at all times; only a dentist will be able to remove them. A major advantage of fixed dentures is that they can be brushed and flossed as if they were natural teeth. It should be noted, though, that fixed dentures typically require more bone density than removable dentures.
Removable Implant Dentures
A removable denture is attached to about 2 to 5 implant posts via clips or ball sockets. You can take them out of your mouth whenever you need to. Since less bone density is required for this type of denture, it may be a better option for patients who have already experienced bone loss.
The Implant Denture Process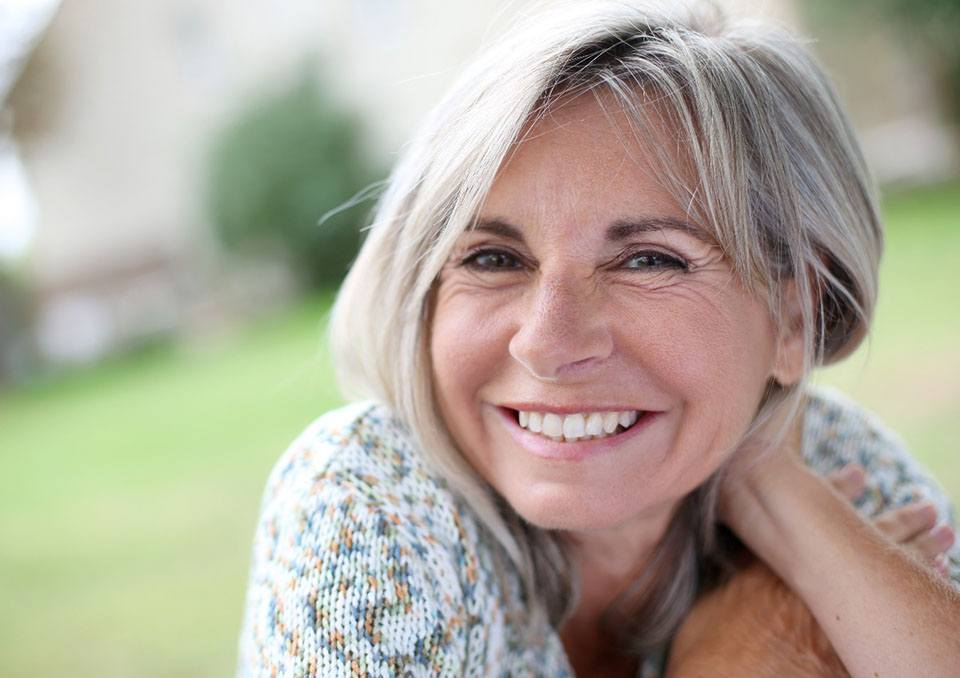 During your initial implant consultation, we will examine your mouth and jaw to determine if you can get implants right away or if you might need preparatory procedures like bone grafting first. Once we're sure that your mouth is ready, we'll refer you to a trusted local specialist for implant surgery; after your mouth is numbed, the implant posts will be inserted in predetermined areas of the jawbone.
After about three to six months, your implants will have formed a strong bond with your jaw thanks to a process called osseointegration. Abutments will be attached to each post; then once your mouth has completely healed, we can take impressions to start designing your final denture. Once said denture has been completed at a separate lab, it will be sent to our office; we'll attach it to your implant posts during one final appointment.
Am I a Candidate for Implant Dentures?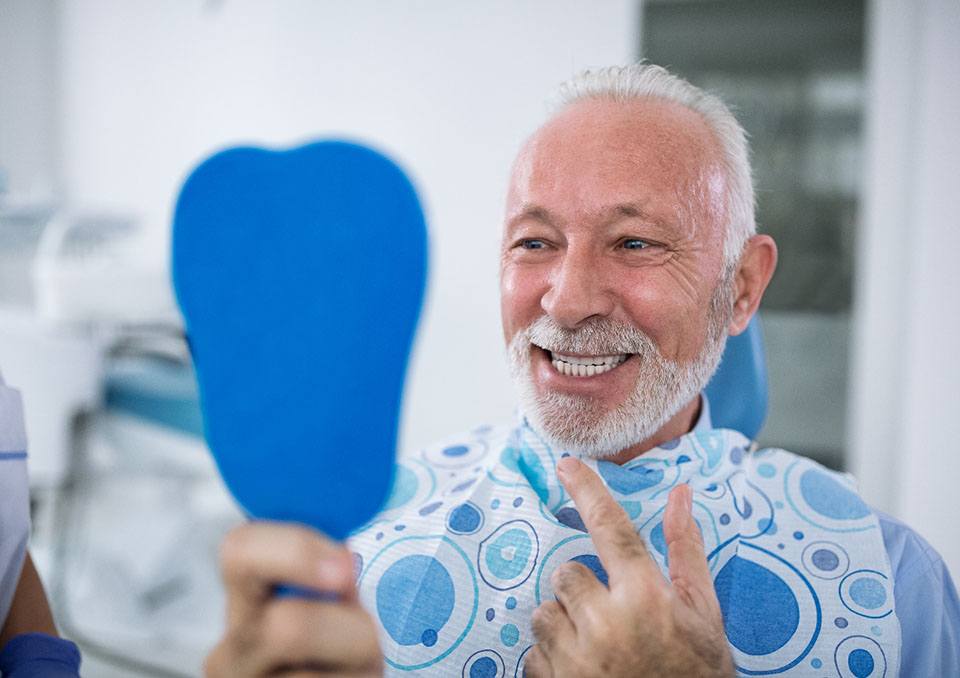 Most adults with multiple missing teeth and good oral health can have dental implants placed. We can help determine whether implant dentures are the best choice for your smile after we've completed a thorough examination of your mouth. We'll need to confirm that you don't have gum disease and that you have sufficient jawbone density for the desired type of implant denture. Bone grafts and other preliminary procedures can be scheduled as needed to prepare your jaw for implant placement.
Benefits of Combining Dentures & Dental Implants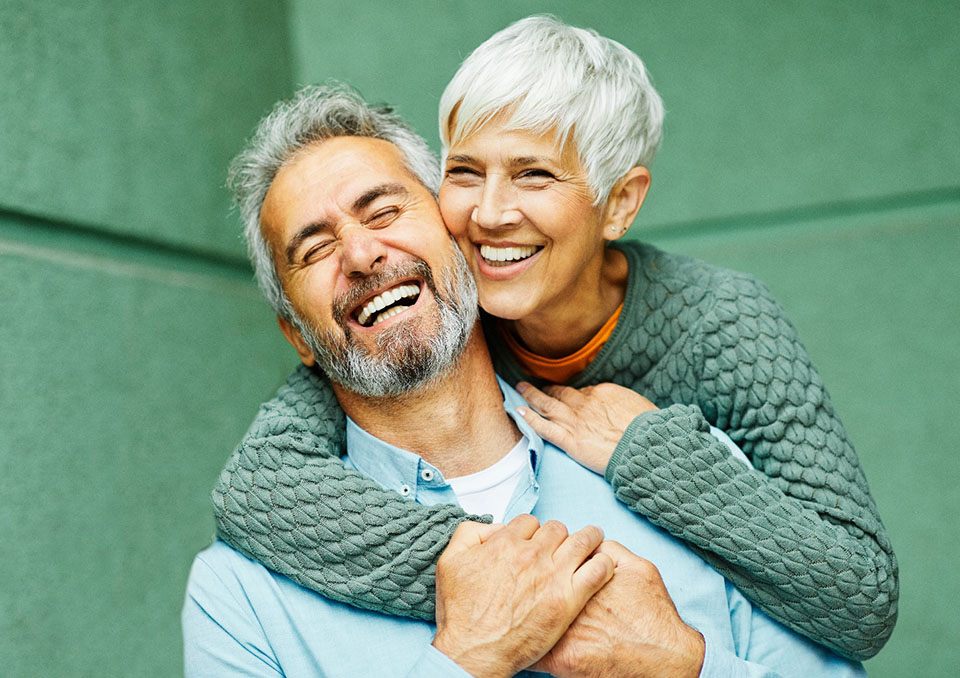 Strong, stable new teeth that can handle virtually any kind of food
A smile that won't slip at embarrassing moments
Replacement tooth roots that will prevent bone loss in your jaw
Implant posts that can potentially last for decades or a lifetime with the right care