October 31, 2016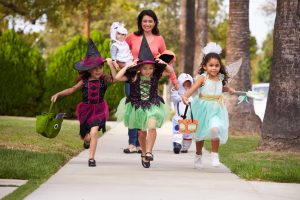 The countdown is over. Halloween has arrived! What fun events will you and your children take part in this evening? It's likely one of your kids' favorite days of the year — but as your dentist in Richardson, we know it's also the time their teeth are at an increased risk of developing cavities. That's why this year, we are looking forward to celebrating National Brush Day tomorrow, November 1.
We encourage you to sign the pledge through Thunderclap. When you do, tomorrow at noon a Facebook post and/or Tweet will go out saying you support National Brush Day. Then, prove you support the day by sitting down with your child to discuss the importance of regular brushing and other good dental hygiene habits.
Your child's teeth are so small and precious, but we want to remind you at this time of year that they're just as vulnerable (if not more) to cavities and infection as your own. Children are still developing their dental hygiene habits, and they need your help cleaning and making healthy choices.
#2min2x a Day: The Key to Healthy Smiles
Tomorrow, set aside some time to discuss with your little one the importance of brushing for two minutes, at least twice a day. Having difficulty getting your child to brush her teeth regularly? We've got some tips to help you encourage a good toothbrushing habit.
Try finding a toothbrush she gets excited about. Find one with her favorite movie character or in the color she loves most. Children should have their toothbrush replaced more frequently than adults, anyway.

You can also try making toothbrushing a family affair. Gather everyone to brush together at night and in the morning. You may find your child is more enthusiastic about using her toothbrush when everyone else is doing it, too.

Keep track of your child's brushing habits on the calendar. Involve her in the process by letting her put a mark every day she brushes properly. Tracking progress on the calendar is a good visualization that may encourage her to stay in the brushing habit.
Of course, it's not just toothbrushing that keeps your little one's smile happy and healthy. Once she has teeth that are touching each other, daily flossing is another crucial aspect of good oral health. While you're talking about toothbrushing on National Brush Day, don't forget to add that every good cleaning routine includes daily dental floss, too.
Setting a Good Example
When it comes to good oral hygiene, two things are true. First, your child looks to you as a model for her own behavior. She'll value what she sees is also important to you. And the other thing? Regular brushing and flossing is important for people of all ages. Make sure you are taking care of your own smile while you're stressing the importance of good oral hygiene to your child.
When was your little one's last visit to the dentist? There's never been a better time to have her teeth cleaned and inspected that around the sugariest holiday of the year. Request an appointment for a Halloween checkup and cleaning at CityLine Dental Center today!
Comments Off

on Dentist in Richardson Celebrating National Brush Day Tomorrow
No Comments
No comments yet.
RSS feed for comments on this post.
Sorry, the comment form is closed at this time.