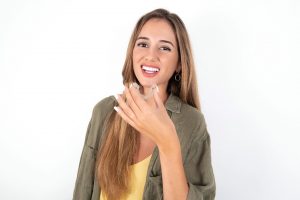 Invisalign is a remarkable treatment that can effectively straighten teeth without the use of unsightly brackets and wires. If you are thinking about getting started with it, you have much to look forward to! Of course, you may want to know more about the road ahead before you commit to anything. Read this blog post to get a step-by-step overview of the Invisalign treatment process.
Step #1: Consultation
The process of getting Invisalign begins when you visit a dentist who is qualified to provide the treatment. They will examine your teeth, assess the degree of your dental misalignment, and learn about your goals and expectations for straightening your teeth. If it looks like Invisalign would be a good fit for your circumstances, you can move right into the next step of the treatment process.
Step #2: Diagnostic Records
It is important for your case to be properly documented, so your dental team may take some photos of your teeth, as well as some X-Rays. It is also important to capture impressions of your teeth. Those impressions will then be sent to the Invisalign laboratory, which will then fabricate your series of custom aligners out of a special, patented form of plastic.
Step #3: Getting Started with Your Aligners
It may take a few weeks for Invisalign to create your aligners and ship them to your dentist's office. Once they are ready, you will have another appointment. You might need to get buttons placed on your teeth (buttons are small, tooth-colored bumps that help to hold the aligners in place). In some cases, minor tooth modifications are also necessary.
Your dental team will coach you on how to insert/remove your aligners. They will also give you some tips on how to care for your teeth throughout your treatment period.
Step #4: Wearing Your Aligners
You should wear each set of aligners for about two weeks, 20 – 22 hours each day. They should be removed only when you eat and clean your teeth. As your make your way through your series of aligners, your teeth will gradually move closer and closer to their ideal positions. You will need to visit your dentist periodically so they can monitor your progress.
Step #5: Refinements
Once you work your way through your initial set of aligners, your dentist will check the positioning of your teeth. Some patients need a few additional aligners in order for their treatment to be truly complete.
Step #6: Maintaining Your Results
Once your teeth are in their desired positions, you will need to keep them there via the use of a retainer. A retainer is a small, custom appliance that prevents teeth from drifting out of place. At first, you may have to wear yours full-time (as much as you wore your aligners). Later, though, you may need to wear it only at night.
The Invisalign process is easy and straightforward for most patients. During your consultation, your dentist can help you understand the details of your upcoming orthodontic journey.
Meet the Practice
Drs. Melody Stampe and Tamara Gater work together to provide a range of services for the Richardson community, including Invisalign. Our team prides itself on creating a welcoming environment for all patients. To learn more about us and how we may be able to help you enjoy a straighter, healthier smile, contact us at 972-231-9499.