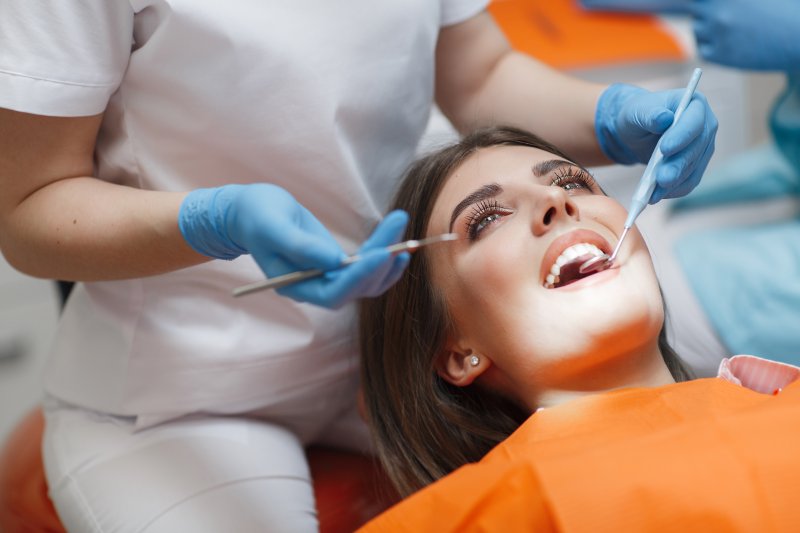 Some patients may feel inclined to skip a routine dental checkup because they don't find it necessary. After all, it's just a cleaning, right? Wrong! There are many essential steps your dentist takes during every six-month checkup to ensure your health is in optimal condition. While you may not realize it, these things are crucial to your overall health. Below, you'll learn about a few things you didn't know your dentist was doing at every regular checkup.
Screening for Oral Cancer
Oral cancer is a serious disease that can become life-threatening if left untreated. But don't worry – it's easily treatable with early intervention. During every checkup, your dentist will check your lips, head, neck, and mouth tissues to spot any visible signs of it.
Examining Your Tongue
Believe it or not, your tongue's size and surface can reveal a lot about your health. For that reason, your dentist will closely examine it during every routine checkup. They'll check for abnormalities to ensure there are no concerning signs or symptoms.
Checking Every Tooth
During your checkup, your dentist will carefully check each and every tooth for health concerns. They'll use a small mirror called an "explorer" to examine each tooth, paying close attention to the enamel.
Inspecting Your Salivary Glands
Saliva is essential for helping you maintain a healthy smile! The natural cleansing agent washes away harmful bacteria and neutralizes the acids in your mouth. If you're not producing enough saliva, you're more vulnerable to issues like cavities, decay, infection, and even bad breath. Because of that, your dentist will check your salivary glands at every appointment to ensure they're producing an adequate amount.
Looking at Your Tonsils
Similar to the tongue, your tonsils can help reveal any health concerns present in your body. Your dentist will take a close look at them to ensure everything's looking fine. They'll check for signs of infection or swelling.
Evaluating Your Bite
In addition to checking the health of your teeth, your dentist will evaluate your bite and alignment to see if there has been any shifting recently. Depending on the situation, your dentist may recommend orthodontic treatment to correct any issues.
Checking Your Temporomandibular Joint
The temporomandibular joint (TMJ) connects the jawbone and jaw together. At every checkup, your dentist will check it to make sure the joint and bite are working effectively together.
Your routine dental checkups are much more thorough than you may have realized. By visiting your dentist regularly, you can keep your body and smile in pristine condition!
About the Practice
At Cityline Dental Center, we offer high-quality, comprehensive, and personalized dental services to patients of all ages. Our team always goes the extra mile to ensure your oral health is in its very best shape. If you'd like to learn more about what we do at every routine checkup, feel free to ask a member of our team. You can schedule an appointment via our website or call (972) 231-9499.