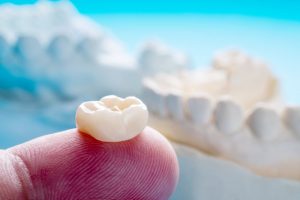 When faced with a damaged or decayed tooth, you may not know what type of treatment your dentist will suggest. The severity of the problem often helps professionals decide which service is best for your individual needs. But what is the real difference between dental crowns and fillings? To help familiarize yourself with these two restorative treatments, this article will explain each, so you are more aware when preparing to meet with your dental team.
When is a Dental Filling Necessary?
A dentist will often recommend a dental filling when a cavity has formed but has not penetrated further than the tooth enamel, which is the outermost layer. These restorative treatments can call for the use of different types of materials; however, many dental professionals are more commonly using tooth-colored fillings for two reasons:
To minimize the amount of tooth structure removed
To provide a more blended and natural appearance
Dental fillings are typically color-matched to create a seamless look when placed inside a patient's tooth. Also, the material is more malleable, which means the dentist does not need to remove as much of the tooth structure in order to create a tight seal.
When is a Dental Crown Necessary?
A dental crown is also referred to as a "cap," and it is customized to snugly fit over a vulnerable tooth plagued by decay or damage. When deeper layers of a tooth are affected, it can cause the structure to no longer remain functional. Instead of extracting it, a dentist may recommend a dental crown to help hold it in place and strengthen it over time.
Gold, porcelain, zirconia, and even porcelain-fused-to-metal are all common materials used to create these restorations; however, it's becoming increasingly popular for dentists to use porcelain or ceramic to create a more natural appearance for patients in need.
Taking 2-3 appointments to create a dental crown, it's necessary for a dentist to remove the damaged areas of the structure and file it down before taking impressions and having a temporary put into place. It can take two weeks or more to create a permanent crown but once it is ready, patients return to the office to have their temporary removed and the finalized restoration put into place.
Whether it is a dental filling or crown that you need, you can trust that a dentist will keep your best interest in mind when determining which method should be used to preserve your natural tooth.
About the Author
Dr. Melody Stampe is a native of Garland who received her dental degree from the Baylor College of Dentistry in 1996. As one of five dentists who was chosen nationally to attend the Advanced Education in General Dentistry program, she underwent extensive training in implantology, cosmetic dentistry, and other dental fields. At CityLine Dental Center, she and her team can repair, restore, and rebuild smiles no matter the issue, which is why you are invited to call our office at (972) 231-9499 or visit our website to learn how we can help you see a new and improved smile.