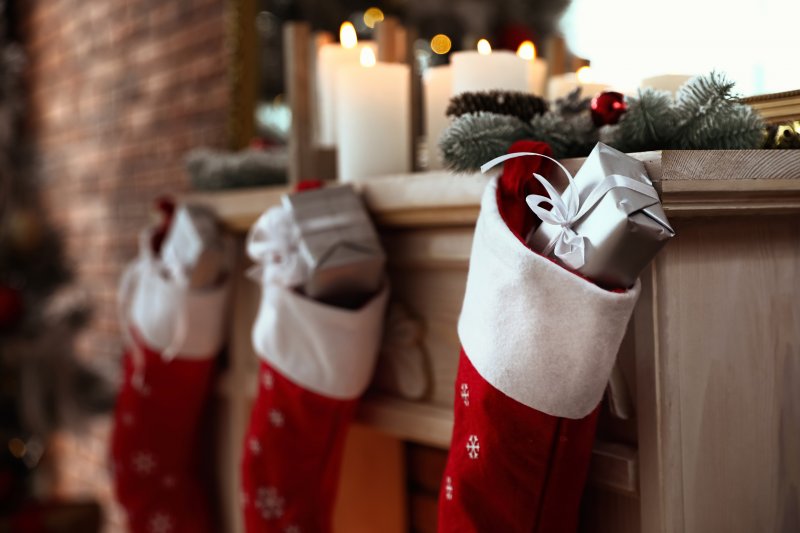 The temperature is dropping, the days are getting shorter, and every store is lining its shelves with Christmas decorations. It's official – the holiday season is in full swing! As a result, you may already be looking for fun gifts to put in your loved one's stockings. While candy and other sweet treats are always a safe bet, they can have a negative impact on oral health. Fortunately, there are many non-candy goodies that are great stocking stuffers and promote a healthy smile. Continue reading for a few ideas!
New Oral Hygiene Products
Christmas is the perfect time to get your loved one's new oral hygiene products! Not only will you save them money on something they'll inevitably have to purchase in the future, but their gift will encourage them to take proper care of their smile.
Currently, our practice has a few tooth-friendly stocking stuffers available for you to purchase. You can get a Philips Sonicare 4700 Electric Toothbrush for only $68 and a Philips Sonicare Power Flosser 3000 for $90. With these tools, your special someone will have the cleanest and healthiest teeth!
Teeth Whitening Pen
Who doesn't want a bright and beautiful smile? This holiday season, you should get your loved one something that'll never expire or go out of style – teeth whitening! It's the perfect gift that'll boost their confidence and make them think of you every time they show off their pearly whites. Right now, you can purchase a Philips Zoom Whitening Pen 5.25% HP for only $35.
Healthy Snacks
If your special someone has a sweet tooth, you may want to get them candy anyway. Well, you can protect their oral health by purchasing sweets that don't contain sugar. For example, sugar-free gum or lollipops are great choices that will satisfy their cravings without putting their smile at risk.
Do you want to avoid candy completely? There are plenty of other healthy snack options you can consider! Salted nuts, string cheese, raisins, and pretzels are just a few excellent ideas. Not only are they super tasty, but they're great for teeth.
These smile-friendly stocking stuffers can set your loved one up for success when it comes to dental health. With these gift ideas, you can put them on the right path toward a healthy smile!
About the Practice
At Cityline Dental Center, we offer comprehensive services to help patients of all ages achieve and maintain optimal oral health. From routine checkups to cosmetic dentistry, we've got everything you need in one convenient location. If you'd like to ask for more details about our stocking stuffers, don't hesitate to get in touch. You can contact us via our website or call (972) 231-9499.