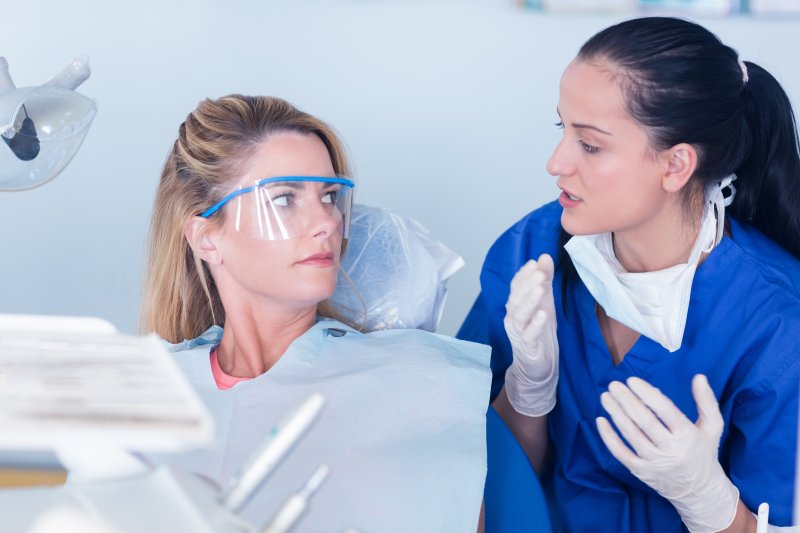 One day when performing your normal oral hygiene routine, you noticed that your gums look puffy. Whether they are painful, tender, or red, swollen gums are a sign that something isn't right and it's time to visit your dentist. But what can cause this? Continue reading to learn about some of the potential causes of swollen gums and what your dentist can do to treat this issue.
4 Potential Causes of Swollen Gums
If your gums are swollen, it's important to contact your dentist as soon as possible so they can determine what the problem is. A few potential causes of gum swelling include:
Gingivitis – This is the first stage of gum disease, an infection that is often the cause of poor oral hygiene. Gingivitis can cause the gums to become swollen and irritated.
Pregnancy – Pregnant people can experience swollen gums due to the rush of hormones that their body produces, which increases the blood flow to your gums.
Malnutrition – Your gums can swell due to a deficiency of vitamins, especially B and C.
Infection – Herpes, thrush, and other infections in the mouth can lead to swollen gums.
How Dentists Treat Swollen Gums
If your gums are swollen for more than two weeks without improving, set up a visit with your dentist. They will perform an examination of your mouth to determine the cause of the swelling as well as what treatment option is best. Additionally, they will take X-rays to determine if there's any bone loss. If there is, they may recommend a bone graft.
Your dentist may prescribe an oral rinse to help prevent plaque and reduce gum disease. In addition, they may recommend using a specific brand of toothpaste to help prevent additional irritation. Antibiotics may also be necessary in some cases. Extreme cases of gum disease may require surgery. Scaling and root planing is another common gum disease treatment.
At-home Treatment Options
Along with seeing your dentist to receive prompt treatment, there are several things that you can do at home to treat swollen gums, such as:
Brush and floss – Gently brush and floss your teeth to help soothe your gums.
Rinse with saltwater – Make a saltwater solution of ½ a teaspoon of salt in a cup of warm water. Gargle with the mixture for 10 to 15 seconds to eliminate bacteria.
Drink lots of water – Drinking plenty of water will help stimulate saliva production. This will neutralize acids and wash away harmful oral bacteria.
Avoid irritants – Don't use strong mouthwashes, consume alcohol, or smoke cigarettes since these things can cause additional gum swelling and irritation.
Use a compress – Place a warm compress over the affected area. This will lessen gum pain. You can also use a cold compress to decrease swelling.
About the Practice
CityLine Dental Center gives patients living in Richardson as well as the surrounding DFW communities the exceptional care and effective oral health treatments they need to keep their smiles looking their best. This includes treatment for swollen gums to get their smiles back on track. If you want to make an appointment or to learn more about their services, call CityLine Dental Center's office at (972) 231-9499 or visit their website.