July 15, 2017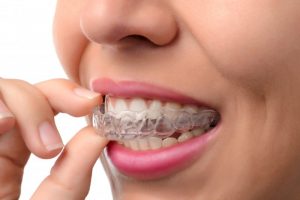 As the photo is snapped, and you've hidden your smile for probably the millionth time, you have the familiar thought that you'd like to straighten your teeth. This thought typically disappears quickly when you remember the years you spent with metal brackets and wires on your teeth. You never want to repeat that experience. What if there was a way to straighten your teeth without anyone noticing, would you be interested? Of course you would! Here's how Invisalign in Richardson can help you.
What is Invisalign?
Instead of using metal brackets and wires, Invisalign uses clear plastic aligners to apply gentle pressure, which gradually moves your teeth. The aligners fit snug, so they don't interfere with your normal daily activities, and they are virtually invisible.
Your aligners should be worn at least 22 hours per day to achieve the best results; however, they can be removed for eating and oral hygiene. Aligners will be changed every two weeks, and every Invisalign case varies, but most can be completed in 12-15 months, making this a very efficient treatment for busy adults.
Many patients think that Invisalign will be too expensive for them; however, this treatment is comparable in cost to traditional braces. Each case varies in cost based on the patients' individual treatment needs. Many dental insurance plans offer an orthodontic benefit, which does include coverage for Invisalign in most cases.
Crooked Teeth and Oral Health
While confidence may be your big motivation for straightening your teeth, did you also know that crooked teeth affect your oral health? Teeth that overlap are harder to keep clean, and this increases your risk of developing issues such as tooth decay, cavities, and gum disease. When your bite is misaligned, it can also contribute to headaches and jaw pain. Aligning your smile is beneficial for your self-esteem and oral health!
Will Invisalign Work For Me?
Dr. Melody Stampe is your cosmetic dentist in Richardson. She's also a certified Invisalign provider, so she can determine if Invisalign is right for your needs with a thorough examination, x-rays, and photos of your teeth. Using 3D technology, she'll plan your treatment and she can even show you what your completed smile will look like before you ever start.
This treatment plan is the blue print for your smile, which is used to create your aligners. If Invisalign is not in your future, Dr. Stampe is happy to discuss other treatment options with you that can help you reach your goals for your smile.
Contact Cityline Dental Center
Are you ready to reclaim your smile and share it with the world again? Give Cityline Dental Center a call today to schedule your consultation with Dr. Stampe.
Comments Off

on The Difference Between Traditional Braces and Invisalign in Richardson
No Comments
No comments yet.
RSS feed for comments on this post.
Sorry, the comment form is closed at this time.