November 30, 2016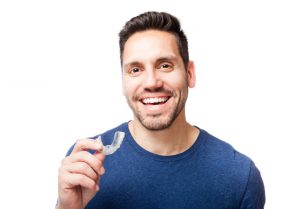 If the loved ones on your gift list are anything like ours, they already have most of what they need. So what's a gift that they'll never expect to receive from you this holiday season? We've got an idea — straighter teeth and a more confident smile. Invisalign in Richardson is the perfect gift option for teens and adults who are dealing with misaligned teeth.
How Invisalign Compares to Metal Braces
The difference between "Invisalign" and "metal braces" is right in the names. Invisalign is a discreet alternative to those clunky, highly visible metal brackets and wires. The clear braces system uses a series of removable plastic aligners to gradually shift the teeth into the proper position. You wear each aligner for approximately two weeks before advancing to the next in the system. And after about one year, on average, your treatment is complete.
Some of the most significant differences between Invisalign and traditional braces include…
Convenience: Invisalign requires fewer visits to the dentist's office. You can begin the treatment as soon as you receive your aligners. Change to the next tray every two weeks, visiting your dentist every month and a half to make sure things are progressing as they should. The total treatment time is usually about six months faster than would be possible with traditional braces.

Comfort: There's no need to worry about a metal bracket rubbing a blister in your sensitive oral tissue. You'll also never have to schedule an emergency appointment for a popped off wire with Invisalign.

Removability: Traditional metal braces require certain modifications to your diet. Hard, crunchy, and chewy foods like popcorn or caramel must be eliminated altogether. But because the Invisalign trays are removable, you can continue to eat what you like, when you like. And removable trays mean there are no barriers to good brushing and flossing, either.
Busy adults and older teens agree: Invisalign is the clear solution to misaligned teeth. Gapped and crowded teeth as well as overbite, underbite, and crossbite are all treatable with Invisalign.  
Invisalign: A Day In the Life
Wondering what a day is like with Invisalign? People who have undergone the treatment (that's 4 million people worldwide, to be exact) report that once you get used to it, it's not so much different from life before braces.
You will wear your Invisalign trays for 20 to 22 hours each day. Wake up and brush your teeth and aligners. Slip the trays out before meals and snacks, brushing teeth and rinsing the aligners before reinsertion. Visit your dentist for regularly scheduled visits every six weeks, and you'll gradually progress your way to straighter, more beautiful teeth!
Read more about living with Invisalign, including hygiene tips and real life results, on their website.
Treat Your Loved One to a Confident Smile
Would you like to really surprise and delight your loved one this holiday season? Invisalign is the best way to help them achieve straighter, more beautiful teeth. Contact CityLine Dental Center and schedule a surprise consultation for someone you love today!
Comments Off

on Give the Gift of Gorgeous, Straight Teeth With Invisalign in Richardson
No Comments
No comments yet.
RSS feed for comments on this post.
Sorry, the comment form is closed at this time.