February 28, 2017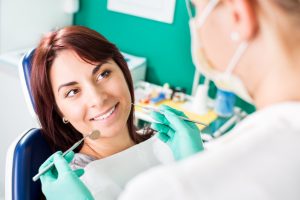 Choosing a dentist is a big decision, and you want to be sure you're making the right choice for you and your family. So how can you decide, out of so many dentists in the DFW area? We've got 5 key things to look out for: expertise, proven results, expert staff, comprehensive services, and great online reviews.
#1: Years Practicing
Dentists develop skills and the expert knowledge that helps them provide superior care as they advance in their careers. Check to see how long your dentist has been practicing to get a feel for their level of expertise in the field — you can usually find this information on their About the Dentist page. Dr. Stampe has been in the dental field since she graduated valedictorian of the Baylor College of Dentistry in 1996!
#2: Smile Gallery
Every dentist can talk a good game, but you want to see their results to know what's really possible with your smile — especially if you are considering having cosmetic work done. See if your potential dentist has a smile gallery on their website you can look through. You could also ask to see some of their case studies when you visit for an appointment or consultation.
#3: Staff
When you visit any dental office, you're not just getting to know the dentist. You will also spend a lot of your time working with reception and the dental assistants and hygienists. So it's important that your potential dentist have an excellent team! Take note of your first impressions when you call or visit the office. Do the staff members take time to make you feel welcome? Do you feel like they really care about you and your smile? If so, that's a great sign.
#4: Services
Of course, you'll also need to make sure the dentist offers the services you need. All general dentists take care of the basics, like a checkup and cleaning or routine filling. But what about treatment for TMJ and facial pain? It's a common condition for adults. You may also desire one or more cosmetic treatments at some point down the line! Look for a dentist who provides comprehensive services so you can receive all the care you need in the office where you already feel comfortable.
#5: Online Reviews
It's never been easier to get an idea for what current and previous patients think about a dentist than it is today, with online reviews. Check the dentist's reviews before you schedule an appointment — and then, after you visit the dentist, remember to leave a review of your own!
Call CityLine Dental Center Today!
Dr. Stampe is the experienced dentist offering complex services — and we've got the photos and reviews to prove how excellent our care is at CityLine Dental Center! We also employ a warm, welcoming staff who works to ensure your complete comfort and success each step of the way. Looking for an excellent dentist in Richardson? Look no further! Request an appointment at CityLine Dental Center today.
Comments Off

on Need a Dentist in Richardson? Look for These 5 Things
No Comments
No comments yet.
RSS feed for comments on this post.
Sorry, the comment form is closed at this time.