April 24, 2017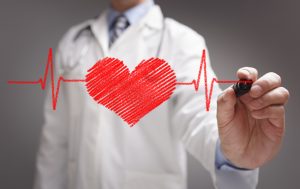 Can your oral health determine if you're at risk for heart disease? Believe it or not, your mouth definitely can. Researchers have found that patients with periodontal disease (advanced gum disease) are twice as likely to have heart disease compared to patients with healthy gums. The American population has a history of having high cholesterol which further increases their chance of having heart problems if they don't take diligent care of their teeth and gums. Your dentist in Richardson, Dr. Melody Stampe of CityLine Dental Center, wants our patients to understand the relationship between dangerous bacteria, inflammation, and serious heart conditions.
Periodontal Disease: Dangerous Bacteria and Inflammation
Scientists and health professionals alike suspect that the link between periodontal disease and heart disease is similar harmful bacteria. The bacteria that dentists find in infected gum tissue that surround your teeth systematically break down your underlying connective tissue. This causes inflammation of the gums. While you're normally chewing or brushing, harmful bacteria can enter your bloodstream. This leave the rest of your body—especially your heart and circulatory system—susceptible to attacks from these bad bacteria.
Inflammation is your body's natural response to infection. It makes sense that when infectious bacteria enter your body through your receding gums, it can cause inflammation in your arteries as plaque forms. The more plaque clogs your arteries, your chances of a heart attack or stroke increase.
Reduce Your Risk: Keep Your Teeth, Gums, and Heart Healthy
Given the link between these two diseases, it's no wonder why your dentist is the best health professional to assess your oral health and heart health. We want to deter our patients from ever having to experience severe health problems—whether it's concerning your oral health or general health. One of the best ways you can prevent yourself and your loved ones from gum disease and later health issues is to visit your dentist regularly for comprehensive checkups and professional cleanings. When you visit our CityLine Dental Office, you will be provided with:
The best advice for effective brushing and flossing habits so that teeth and gums stay healthy at home.
Scaling and root planing to remove reverse gum disease in its early stages.
Topical antibiotic treatment to fight infection and restore healthy, attached gums.
Referrals to a periodontist (gum disease specialist) for surgical care if necessary.
Heart Health Issues and Dental Treatment: What to Do
If you are a patient with existing heart conditions, it's important to inform your dentist right away. Patients with heart health issues may need special antibiotics before receiving certain dental work. Our office outs our patient's safety first. We want every dental appointment to improve your overall health including your teeth and gums. If you have any questions regarding your next dental appointment, or if you'd like to schedule an appointment to make sure your gums are still pink and healthy, call our office. We would be happy to make an appointment for you to meet with Dr. Stampe.
Comments Off

on Your Dentist in Richardson Explains Two Systematic Diseases
No Comments
No comments yet.
RSS feed for comments on this post.
Sorry, the comment form is closed at this time.