October 29, 2017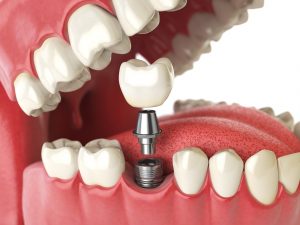 If you have made the choice to replace your missing teeth with dental implants in Richardson, you are making an excellent investment in your oral health and quality of life. Offering over a 95% success rate and the potential to last forever, you have chosen a cost-effective solution to complete your smile. However, while they may last for a lifetime, did you know that they will require maintenance and restoration to promote their longevity? You can help to foster the long-term success of your new smile with the right aftercare.

How Long Do Dental Implants Last?
When dental implants are placed on the ideal candidate and with the correct placement of the implant posts, they should last for a lifetime if you maintain your oral hygiene and regular appointments with your dentist in Richardson. However, although it is not subject to tooth decay, the dental crown will suffer from normal wear from chewing over the years.
On average, it will need to be replaced about every 10 to 15 years. But, when dental implants are used to replace the molars, they undergo more strain. Therefore, they may require replacement more frequently. You can help to promote their longevity by maintaining your oral hygiene and semi-annual appointments with your dentist.
Do I Need to Restore My Dental Implant?
Although it is rare, your dental implant post can fail, most often due to an infection known as peri-implantitis. The most common signs include redness, swelling, and pain of the gum tissue. In some cases, it may feel loose, but this is also a sign that you need a new crown.
If your crown shows visible signs of wear and tear or feels loose, it may be time to replace it. Generally, the cost to replace it can range from $1,000 to $3,000; however, your insurance may cover a portion of the treatment.
In the event that the implant post has failed it will need to be removed and the underlying cause of the failure will need to be treated. In some cases, a new implant post can be placed to restore your smile, such as when infection or bone loss has led to failure.
Dentist Near Me for Dental Implant Restoration
If you are concerned about the failure of your dental implant in the future, you have little to fear. The risk for late-term failure is around 2% if proper oral hygiene and regular care from your dentist are maintained. However, be prepared to replace the dental crown about every 10 years to protect your investment in your new smile.
About Dr. Melody Stampe
Dr. Melody Stampe received her dental degree from the Baylor College of Dentistry. In addition, she has completed more than 500 hours of continued education in an array of specialties, including implantology, cosmetic dentistry, and other advanced procedures. If you have any questions about the use of dental implants, contact CityLine Dental Center to schedule a consultation.
Comments Off

on How Often Do Dental Implants in Richardson Need to Be Replaced?
No Comments
No comments yet.
RSS feed for comments on this post.
Sorry, the comment form is closed at this time.