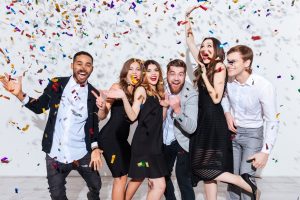 2023 is right around the corner, which means you're probably thinking about goals you'd like to achieve in the year ahead. While you might plan to eat better, exercise more, or save money, don't forget about your dental health. Here are 5 New Year's resolutions to achieve a healthier smile.
1. Step Up Your Home Oral Hygiene
Teeth are meant to last forever, but 120 million Americans have lost at least one tooth. Despite being preventable, cavities and gum disease are leading culprits of tooth loss. You can safeguard your smile from decay and infections by revamping your oral hygiene routine. Commit to brushing your teeth for 2 minutes in the morning and at night. Floss every day before heading to bed.
2. Cut Back on Sugary Foods and Drinks
Sugar feeds cavity-causing bacteria that erode enamel. It's best to limit your consumption of sugary foods and drinks for a healthy mouth and body. If you can't resist your sweet tooth, brush your teeth after you've finished. If you can't get to your toothbrush, rinse your mouth with water to wash away any residue.
3. Break Any Bad Oral Habits
You can avoid dental emergencies by breaking bad habits that can damage your smile, like chewing on your fingernails or using your teeth to tear open a chip bag. It's also best not to smoke or drink alcohol excessively to protect your pearly whites.
4. Schedule a Cleaning and Checkup
The American Dental Association recommends a cleaning and checkup every 6 months, even if you don't have any oral health concerns. Regular cleanings lower your risk of tooth decay and gum disease while a checkup allows your dentist to monitor your oral health to detect any problems while they are small. Routine appointments not only preserve your natural smile but also lower your overall oral health expenses because you're less likely to need treatment later. Research has found that every $1 spent on prevention can save $50 on restorative care. Scheduling a preventive appointment is a simple way to keep your smile healthy and save money in the upcoming year.
5. Don't Delay Dental Work
If you've been putting off dental work, don't wait to see your dentist any longer. A small issue can quickly turn into a big problem. Start the new year with a healthy smile by scheduling the dental procedure you have been avoiding.
It's never too late to recommit to your dental health. A healthy mouth will support your overall wellness, so you will look and feel your best in 2023.
About Dr. Melody Stampe
Dr. Stampe achieved her dental degree from the Baylor College of Dentistry and completed an Advanced Education in General Dentistry program. Dr. Stampe has regularly pursued higher education to provide the most advanced treatments and techniques to create healthy, beautiful smiles that last. If you need a cleaning and checkup before the new year, contact our office today to schedule an appointment.